Bruder Models
Bruder Models are well known for their build quality.
Attention to detail along with special functional features make the Bruder Range popular with children who love machines.
We probably stock the largest selection of agricultural models in the area – including the latest releases.
ROADMAX – sturdy toys designed for small children
Realistic play functions make these toys lots of fun for indoors and outside. Soft tyres outline the sturdiness and high quality of these toys. Suitable for children two years and above.
They have won several design awards and are very popular in nurseries and play groups, as they are so sturdy and well built.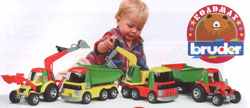 FARM PRO SERIES – just like the real thing
The large 1:16 scale Pro Series models offer children realistic models with fine detail and a wide range of play functions. All vehicles are suitable for inside as well as outside use. Tractors are fully steerable through the cab roofs. The farm vehicles and equipment are compatible. Suitable for children three and above.
CONSTRUCTION PRO SERIES – multi-functional
Large 1:16 Scale models based on real life machines, offering realism not available on most toys of this scale. Equally at home inside or outside in sandpit. Suitable for children three and above.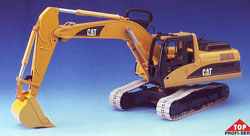 TRUCKS & 4X4 VEHICLES
Bruder manufacture fully functional trucks – cement mixers, cranes, low loaders and many more heavy goods vehicles – all with special features to enhance their play value.
If you want a jeep with horse box – look no further.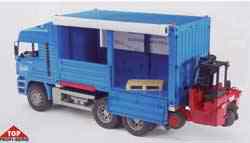 NEW MODELS – latest releases and what's coming!
Bruder release new models throughout the year.