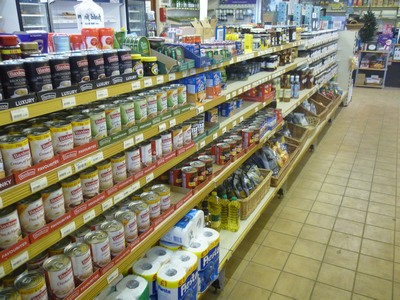 Ivy Barns farm began selling eggs from the back door of the farmhouse over 40 years ago, and this tradition continues in our farm shop today, with free range eggs produced from our own flock of black rock hens.
Our aim is to sell as much locally produced food as possible. This includes sausages, bacon and ham, Marriages flour, Maldon Salt and Tiptree Jams.
We have fresh bread delivered daily, local cakes, a selection of quality biscuits and a large variety of apple juices.
Locally grown potatoes, and other vegetables, fruit and salad available seasonally, throughout the year.
We offer a large selection of Wilkins Jams & Preserves, with over 65 varieties normally stocked, along with special gift packs and their wonderful Christmas puddings.
We sell Essex Honey from two local suppliers, with one actually based in Hatfield Peverel.
In our Frozen Food section, you will find Lamb joints, chops, cubed lamb & mince produced from our own flock of Jacob cross ewes.
At various times we also have home reared Beef, joints & steak, casserole packs & Burgers produced from our Hereford Cross beef Herd.
As well as our own meats we have blythburgh Pork products, quality farm Chickens and packs of chicken fillets & boneless thighs.
We are also now stocking locally produced Gluten Free sausages.
To complete your Sunday Roast we offer a selection of frozen vegetables, ready made yorkshire puddings, and for dessert, a choice of frozen fruits & real dairy Ice Cream.
Equally in a hurry mid week – why not try one of our field fayre ready meals.
We stock a range of convenience grocery items and household goods for those occasions when you have run out or have forgotten that essential item.
We sell a range of locally made pottery, and Countryside themed greeting cards.
Our large car park makes shopping easy, especially when buying bulky goods like dog foods or garden composts.